YOKUU's ultimate guide to Spring Cleaning
Your Kitchen
Our expert tips and tricks to make your kitchen ready for cooking.
Goodbye grime, hello shine!
If the mere thought of spring cleaning makes you want to hit the snooze button, you're not alone. We get it, which is why we're breaking down the big clean one room at a time. (Psst...check out our bathroom deep clean post!) Now, let's get your kitchen shining without any harsh chemicals. After all, cooking is a lot more enjoyable in a clean - and safe - space.
Here's how to get it done.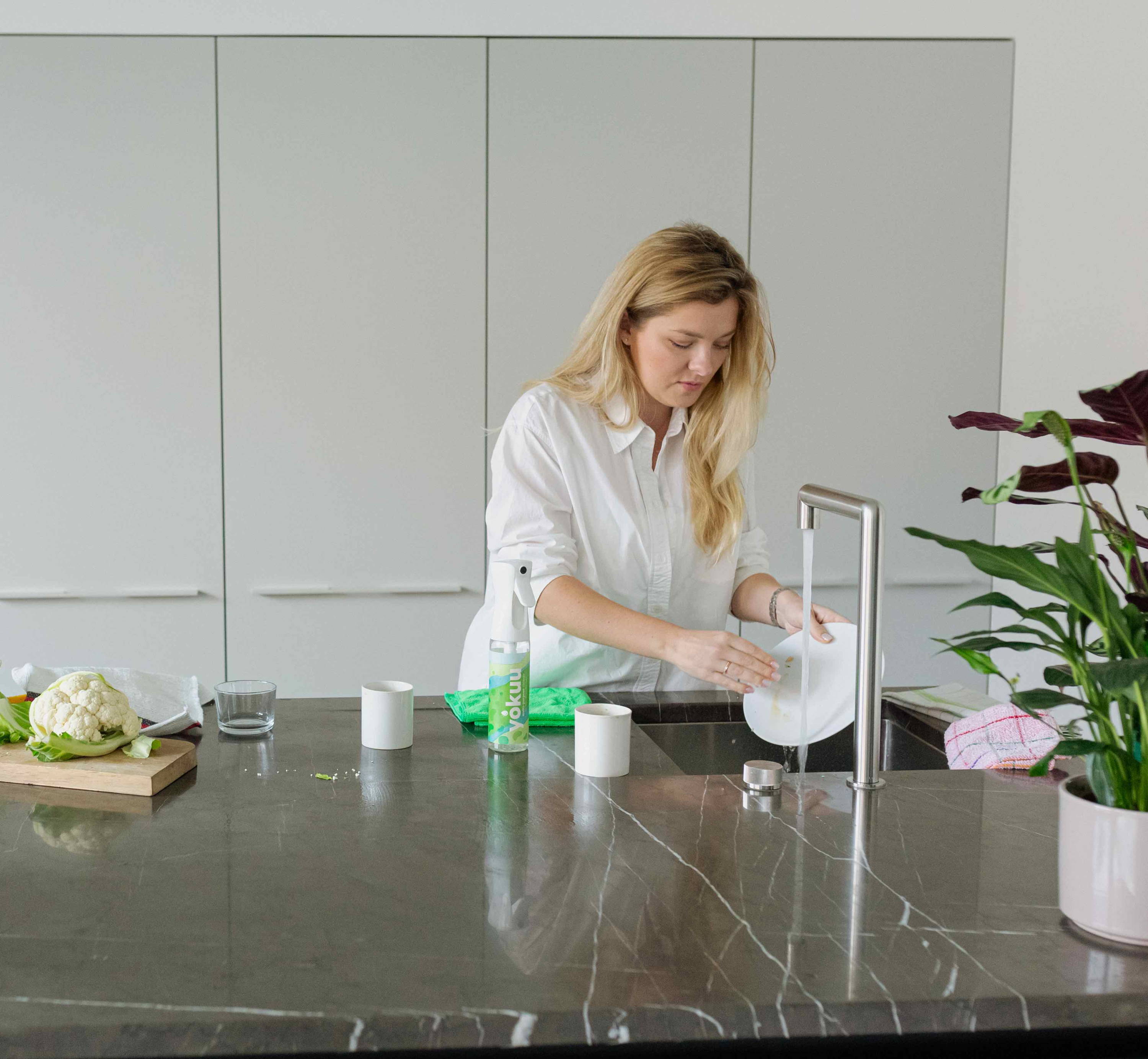 Clear out everything that's past its prime. Start by checking expiration dates on pantry items, tossing anything that's expired or stale. Then go through your fridge, checking the dates on condiments, produce and other perishable items. Anything that's past its prime or starting to rot should be discarded (to the food waste bin or - ideally - the compost!).
Once you've cleared out the old, it's time to give your cabinets and countertops a thorough cleaning. Use YOKUU's probiotic Multi-Purpose Cleaner to wipe down surfaces, removing any dust, dirt or food debris. The probiotics are food-safe and safe for kids and pets!
1. Remove all items from your cabinets and drawers.
2. Wipe down cabinet and drawer interiors with the Multi-Purpose spray.
3. As the finishing touch, give those countertops a wipe down.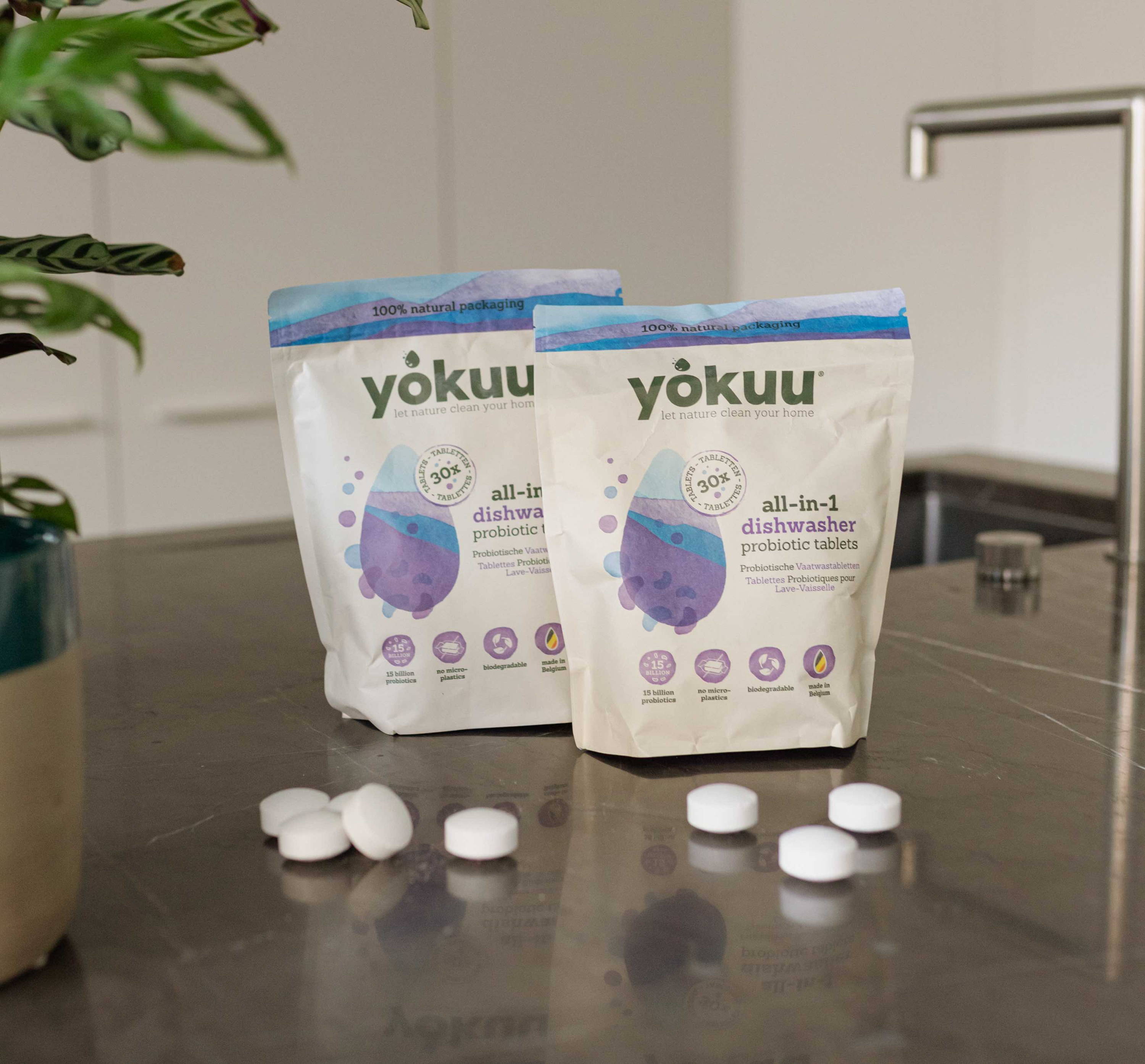 Your dishwasher may just be the hardest working appliance in your kitchen, and after a long winter it's probably in need of some TLC.
YOKUU's Dishwasher Tablets are ideal for giving your dishwasher a deep clean. (They'll also purify your waste-water for a totally guilt-free clean!)
1. Place one tablet in your dishwasher's detergent compartment.
2. Run your dishwasher on the hottest setting.
3. Once the cycle is complete, wipe down the interior with the Multi-Purpose Cleaner. The probiotics will stay and continue their cleaning,
The microwave and oven can accumulate food spills and splatters, as well as unpleasant smells. Give them a deep clean with YOKUU's odour-busting probiotics.
1. Remove any removable parts, like the turntable or oven racks.
2. Spray the interior of the microwave or oven with YOKUU's Multi-Purpose Cleaner.
3. Wipe clean with a soft cloth or sponge.
The kitchen floor is the workhorse of your kitchen, and it deserves some attention during your spring cleaning routine. YOKUU's Floor Cleaner is a great option for cleaning all types of kitchen flooring, from tile to hardwood.
1. Sweep or vacuum your kitchen floor.
2. Mix YOKUU's Floor Cleaner powder with tepid water to create a cleaning solution.
3. Mop the floor with the cleaning solution, working in sections. (Your indoor plants will love the waste water!)
Don't be overwhelmed by the idea of spring cleaning your kitchen. Tackle the challenge head-on with these easy eco-cleaning tips. The best thing: once you're done you can get back to making a mess!

For Belgium, Netherlands,
Luxemburg & France

SHARE YOKUU WITH A FRIEND
And receive a 30% discount on all of our products (more info here!)

We donate a portion of our earnings to non-profit organisations